Dan Miner | Buffalo Business First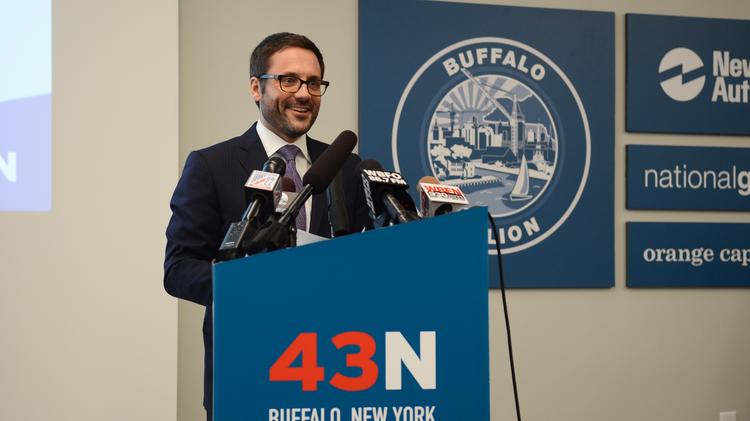 Abcombi Biosciences is the only local company out of 16 to make the finalist round in this year's 43North competition, according to a release of the finalists Monday afternoon by Gov.Andrew Cuomo.
Abcombi is working on biomedical platform technology commercialized out of the University at Buffalo, and company leaders say it's on the road to developing more effective vaccines for several diseases.
Earlier this year, Abcombi was among the first cohort of companies accepted into a prestigious Johnson & Johnson incubator in Toronto. Abcombi was also the grand prize winner in this year's Bright Buffalo Niagara forum.
This is the third year of 43North, a Buffalo Billion initiative supported mainly by the New York Power Authority, which allocated $7 million to support the competition in each of 2015 and 2016.
The 16 finalists will be whittled down in three steps in late October.
On Oct. 26, the 16 companies will pitch to 43North's finals judges, a group of investors and entrepreneurs, for the chance to be one of 10 companies in the final awards' round. The event will take place from 11 a.m. to 4 p.m. at the Rich Products headquarters on Niagara Street.
On Oct. 27, the 10 finalists will pitch to a group that 43North called "some of the brightest minds in venture capital and entrepreneurship." The event will take place from 8:30 a.m. to 1:00 p.m. at Shea's Performing Arts Center in Buffalo. Two of those companies will not receive a prize, five will win $500,000 prizes and three will move on.
Later on Oct. 27, the top three finalists will pitch live onstage for either the $1 million grand prize, the $600,000 runner-up prize or one of the $500,000 prizes. The final event will take place at Shea's from 6 p.m. to 9 p.m.
Each of the prize winners will be required to operate from Buffalo during 2017 and have access to $400,000 in follow-on capital from 43North.
Besides Abcombi, the other finalists include:
Andromium (San Francisco); Arthena (New york City); Asarasi (Katonah); Bounce Imaging (Boston); CleanCapital (Washington, D.C.); Formarum (Toronto); HigherMe (Boston); MobioSense (Taipei); NeoReach (San Francisco); Oncolinx (Boston); PathoVax (Baltimore); Strawberry Energy (Belgrade, Serbia); The Wealth Factory (Washington, D.C.); UltraCell Insulation (Boston); WeDidIt (Brooklyn).
**Click here to view the original article.**