June 15, 2016 | Dan Miner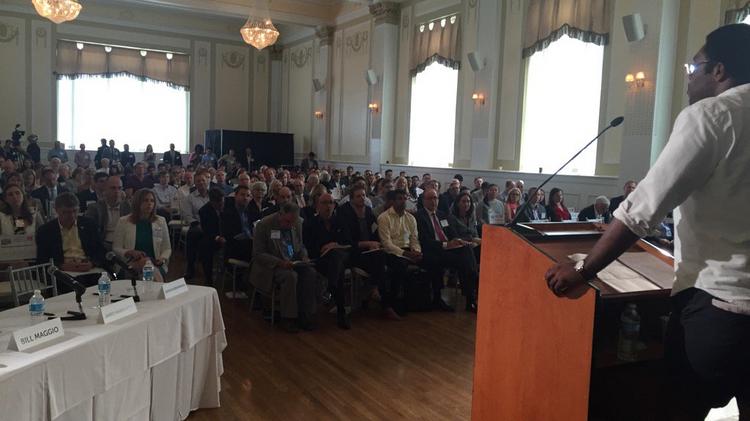 Investors and entrepreneurs flocked to the Bright Buffalo Niagara forum Wednesday, one of the premiere local events focused on startup companies.
The event at the Hotel @ The Lafayette featured pitches from 26 different startup companies, broken up into 90-second lightning pitches and five-minute presentations. The presenting companies were selected from a pool of about 90 applicants, which is more than double than the previous event.
More than 300 people were in attendance.
There was also an invite-only lunch for investors and a keynote address from Bill Rancic, a New York Times bestselling author and winner of NBC's "The Apprentice."
"It's an important platform for engagement and investor deal flow," said Julie Molenda, senior marketing communications manager at the University at Buffalo's Office of Economic Development. "Each year it gets bigger and bigger."
The event was hosted by UB's Center for Advanced Biomedical and Bioengineering Technology (UB CAT) and Center of Excellence in Bioinformatics and Life Sciences (CBLS). Sponsors include the Superior Group, the Western New York Incubator Network, Invest Buffalo Niagara, Buffalo Business First, Lippes Mathias Wexler Friedman LLP and National Grid.
Many of the companies pitching at the event have been known for some time to investors, whether they came through UB's pre-seed workshops, were semifinalists or winners in 43North, belong to the Z80 Labs incubator or have raised money through the local angel networks.
"Entrepreneurs are energized and they're committed to working to build opportunities here," said Jenna Kavanaugh, director of marketing and communications at Invest Buffalo Niagara. "They've captured the attention of the investor community and they're showcasing real momentum for the future growth of the startup community."
**Click here to view the original article.**